Pricing for Home Delivery Software
For your business to use the Kiva Logic software, there is a one time set up fee of $1500 and then Kiva Logic charges $1/USD per order. Invoices are generated weekly and billed automatically to a card your business has on file with our Payment Processor Stripe.com. The minimum per month is $150.
How do I calculate what I would pay?
For example, if you deliver 652 orders in a week, your bill from Kiva Logic for use of the Kiva Logic software will be $652 for that week. Different companies use different names for "boxes", "orders", etc, but in the Kiva Logic software each order has an order id that you can see on the Orders page and elsewhere on the admin. Cancelled orders are not counted as long as they are cancelled before an invoice is generated.
Are there add-ons?
Yes. We do provide additional features that cost extra. For example, we offer Brinks, the text messaging bot, and also Android and iOS apps. If you don't have business email yet, we can also set you up on Google Apps ($10/user/month). If you don't have a domain, we can purchase one for you ($13.99/yr).
Do you offer enterprise pricing?
We sure do- when your business has an average of 1,450 orders or more per week, contact us at hello@kivalogic.com for enterprise pricing.
Is there a minimum?
Yes. If you have less than 150 order per month, then your monthly fee will be $150. If you are on our default weekly invoice billing plan, we will split that fee up into a weekly minimum fee. Once you get over 150 orders per month, then you switch back to our normal billing plan of $1/USD per order.
What's the set up fee?
The set up fee is a one time $1500/USD.
Am I locked in to a contract?
No. You are free to leave at any time, with no penalty. You can download your customer data from the Kiva Logic admin dashboard if your user has Financial permissions enabled.
What if I need a custom feature you don't have?
One of the things that makes the Kiva Logic software special is that a feature that a business in Australia wants is something that a business in Canada can use as well, so everyone benefits. Chances are, if you need a feature we don't have, we can probably build it. With that said though....
We can never 100% PROMISE that a feature will be built, but we do promise that we will add each feature request to our build list for consideration.
Is there a max total to my invoice per week?
No. As you grow, your business will require more resources. We do offer enterprise pricing above 1,450 orders per week.
Do you have Canadian rate?
No, but we can convert USD to Canadian with our payment system so you can pay in Canadian dollars. OR whatever else is your local currency.
How is my business billed by Kiva Logic?
Each Sunday (based on North America East Coast time), you'll receive an email letting you know that your latest invoice has been generated for the previous week. Within 24 hours of this email, the card you have on file will automatically be billed for the amount owed. Here is a sample of what your invoice email will look like: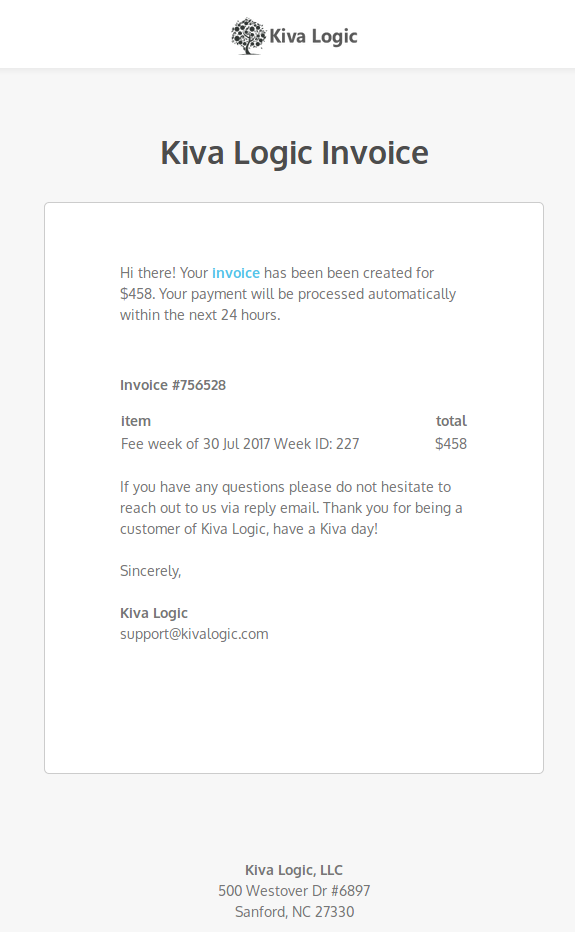 If your card fails, we'll re-try again for the next three days. After that, admin privileges will be suspended until payment is made in full. If no payment is received after 7 days, then your account with Kiva Logic will be suspended.
What if I'm a brand new business?
We'll help set up email addresses, purchase a domain name, customize business operation settings, and more. We've helped start over two dozen new companies in the past 8 years and know how to help you start your business.